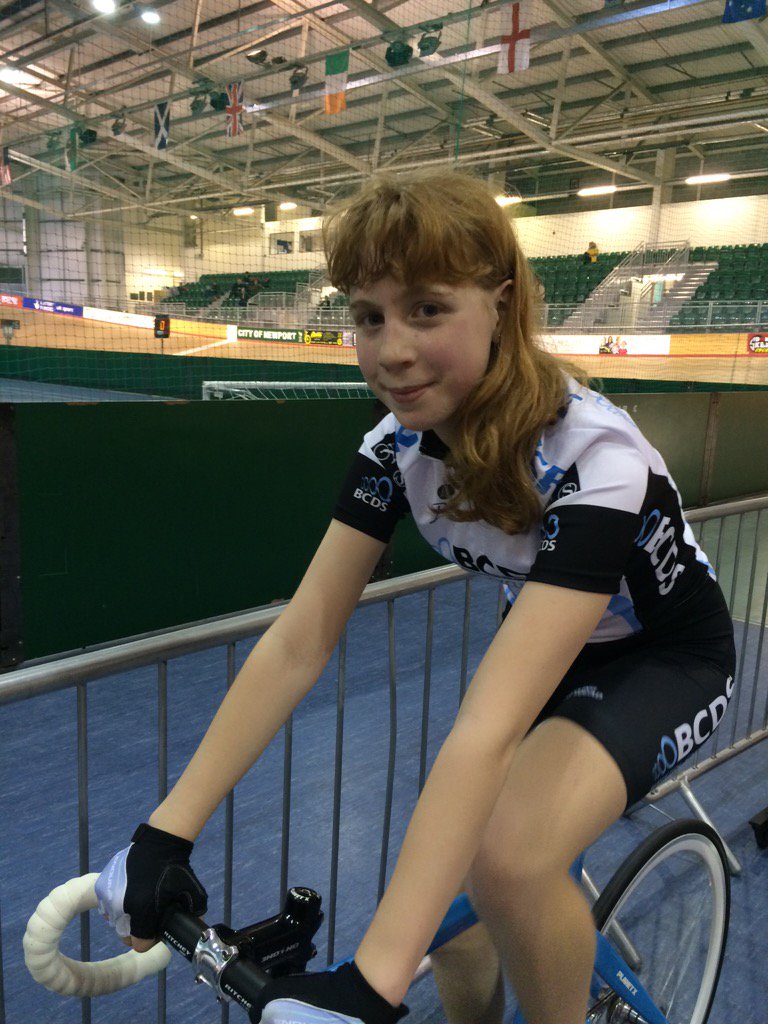 I'd had a little break from the Velodrome after the first Ice Breaker, but I got to a training session on Saturday, and then returned to take part in a mini league meet in Newport on the Tuesday.
This means I come running out of school, to be met by Dad ready to drive me to Newport. It gives me just enough time to get there, get changed and warm up before the races. As usual I used the journey time to have an early tea and make sure I was hydrated.
Before the races start there is a chance to get a bit of time out on the boards, and I combine this with a warm up on the rollers. Then it is time to head for the gate, ready to race.
The races are mixed, boys and girls, some older and some younger. As I have gained more experience my placings have been getting better, and usually I have managed to place in one or two of the events… but the results this evening were much better!
I had learned a lot recently about ways to ride the scratch race, and this time I sat in, making sure I sheltered as much as possible, but also covering any attacks that were made.  Everything went well, and towards the end someone attacked and I was on their wheel and when they ran out I was able to come over the top of them and maintain my power until the line! This resulted in a strong 2nd place, missing out on first by a bike length to a lad from Hillingdon.
Next up was the six lap dash, a short race over 1500 meters, and having put out a massive effort in the scratch I wasn't expecting a top three result – I never really consider myself a sprinter. I kept on with the same tactic as I'd used in the scratch, sitting on people's wheels when they attacked. I had two people in front of me on the last corner so I used this to motivate me: "over take them!" I launched my sprint and went past one but didn't have enough time to try and overtake the other. I finished with a second place and a smiley face! 🙂
Then it was the devil (Elimination). I rode it like I normally do, making sure there was someone behind me. I really had to work hard now, my legs were feeling heavy from the previous two races. It didn't help that I found myself up the track each lap, having to come over the top so as not to be eliminated, and with just four riders left I didn't have enough energy to push up over the group and I got caught out and eliminated. I finished 4th and tired, not expecting to be any better in the final event, the points race.
But I was wrong! Whilst tired I still felt strong, and I got into a good position each time the bell rang, putting in a sprint to come past the bunch and pick up points each time. I came 2nd twice and 3rd twice, making me 2nd over all in the whole race! I was really please and ended the session grinning from ear to ear!
One thing I need to learn though is to power through the line, as I did tend to sit up right up before the line – I know that if I had sprinted through the line that at least one of the 2nd places would have been a first. Something I will be trying for next time.
https://lauracurlecycling.co.uk/wp-content/uploads/2016/02/Laura-track-success.jpg
1024
768
Laura
https://lauracurlecycling.co.uk/wp-content/uploads/2016/01/laura-curle-300x57.png
Laura
2016-02-28 21:27:41
2016-03-01 14:49:55
Mini League success!