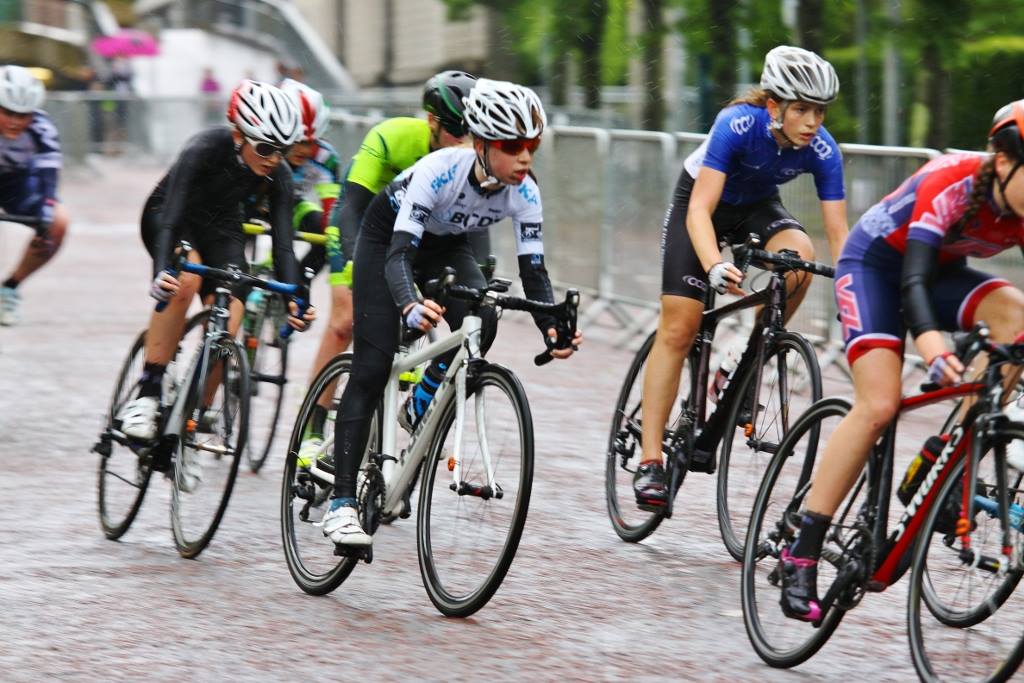 My first nation Crit of the year was at Cardiff town centre on 21st May 2016.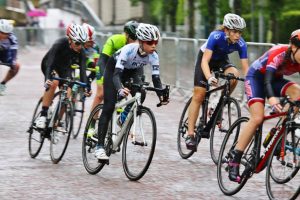 The surface of the town centre course was rough, and potholes were scattered everywhere and anywhere possible. To add to this rain wouldn't stop lashing down, making the circuit slippery and easy to skid out on.
I decided to warm up on the track to get to know some of the corners and where the potholes were, so I would at least have a rough idea of the circuit itself. The 'roundabout corners' were particularly sketchy, with lots of puddles and holes, and even a drain cover which was like riding on ice. This was made ever so slightly worse due to how tight the hairpin corners were.
So warm up was done and now to race. We were gridded so I ended up 3rd line back which wasn't ideal but could've been worse.
The count down started.
5… 4…
The adrenaline was pumping around me, almost as fast as my nervous heart was beating deep within me.
3…
'okay get ready Laura, pedals in a good place and all you have to do is push off and get well away'
2….
'breath in'
…1!
And off I went.
My first aim was to get in the main pack, the next to try and move up then sit in until the final sprint. I got across and in the the main group within the first lap.
Goal one; tick.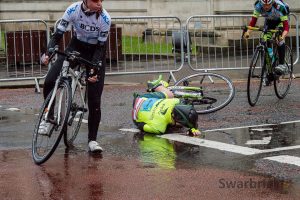 The first 5 laps were hell; everyone trying to ditch everyone from the start but soon it settled down and I was sitting in.
Unfortunately around on of the roundabout corners on of my fellow riders crashed, her elbow going into me causing me to unclip. I quickly clipped back in and started to work to get back to the main group who weren't hanging about. I ended up working with two riders. We didn't instantly get back but when we did I made sure to sit in and recover before anything else. I then conserved energy and waited as the race unfolded.
5 laps to go and I was really wishing it was over. I was drenched, my wrists ached from potholes, the rain and mud stained my face, kit and moral and I was really hating the corners now.
4 laps to go and I started to focus less on the cons and more on the pros; 4 laps that's all it was, I just had to find a good place and get ready.
3 laps, 2laps then 1 lap to go, the bell rang the crowds roared and I was in a reasonable position. Now all I needed was to sprint….
Suddenly, as we came out of the final corner in to the finishing straight someone slid out in front of me, I had to swerve quickly to avoid crashing, and unfortunately this meant I lost my line and speed as we went in to the final 150 meters and the sprint.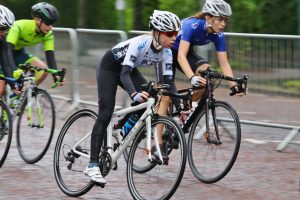 There were 4 or 5 in front so I straightened up having swerved out the way and sprinted, just beating  another girl on the line.
In conclusion it was a good race: sketchy yes, rainy yes, demoralising yes, but I was pleased that I had been strong enough to cope with it, and that my bike handling had kept me upright.
I am very pleased with getting 6th place, the highest placed first year u14, and hope to carry on like this!😊
https://lauracurlecycling.co.uk/wp-content/uploads/2016/05/challenging-conditions.jpg
683
1024
Laura
https://lauracurlecycling.co.uk/wp-content/uploads/2016/01/laura-curle-300x57.png
Laura
2016-05-22 09:49:21
2016-05-26 10:03:09
Cardiff Crit - National Series